Wine Cellaring Products
There are a range of essential wine cellaring products to help you organize your cellar.
Bottle Tags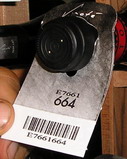 Wine bottle tags make organizing and finding wines in your cellar far easier, as a highly visible bottle tag can be found much faster than coordinates or location notes. It also makes recording drunk wines far more convenient by using tags, as the tags of drunk wines can be stored once drunk and recorded at a later time, maintaining the accuracy of your cellar but allowing you enjoy your wine.
Thermometer
It is essential to store your wines at a constant low temperature, and this is the

thermometer that we recommend. It is cheap, dependable and easy to set up.